Mr. Meisam Mirgheshmi
Alumnus- AISSMS College of Hotel Management & Catering Technology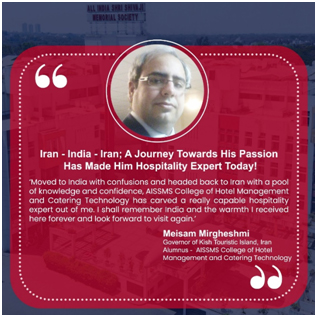 Mr. Meisam Mirgheshmihas been that risk taker person who chooses passion over tradition and opted for BSc HS course in AISSMS College of Hotel Management & Catering Technology. While embarking on this unknown yet a journey of his interest, he had to change his existing field, leave the job & stay miles away from his family. He hailed from Iran & despite all the negative thoughts he focused on what his heart wanted.
"Decision towards passion takes you to success & prolonged happiness.''
At AISSMS CHMCT he worked hard on what all he required to make a successful career in hospitality industry. With a handful of experience and knowledge acquired throughout the 3 years of studying, he headed back to his country Iran. In just some time he found a job in Kish Island which is a tourism destination in Persian Gulf.
With his ambition to serve the society he also completed his MBA from University of Tehran and today works as a prominent hotel inspector at the island. He evaluates a variety of services at hotels of the region as his core responsibility.
He thanks the teachers at AISSMS CHMCT who guided him in his challenging years of studies and enabled him to succeed.He also acknowledges the opportunities provided at the institute that helped him learn the nitty-gritty of hotel management.
Being a foreign student what adds to his story is the positive words that he shares for India. He mentions how this decision proved to be a turning point of his life which took him on the road to contentment. He praises the warmth & kindness he received from the people of India and wishes to visit his college of graduation again to meet his faculty and share with them his experiences over years. He surely is an inspiration to many!