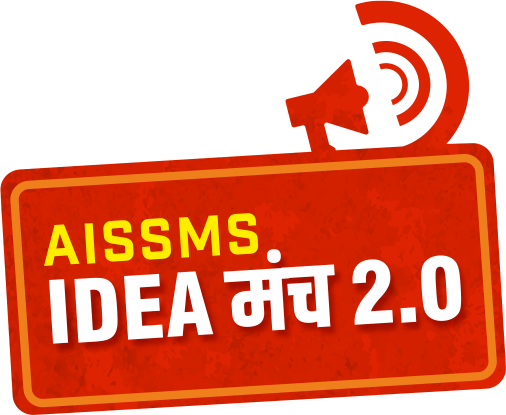 15 FEB to 15 Mar 2022
Proudly Invites all the Students
For Oratory Competition
On the topic -
"75 YEARS OF
INDIAN INDEPENDANCE:
MY IDEA OF MODERN INDIA"
WHAT IS
IDEAमंच 2.0?
AISSMS " IDEAमंच " is a prestigious platform showcasing the brilliance of the students through the oratory competition. The AISSMS Idea Manch was created for students to voice their opinion and shower us with their creative thinking & hence the teachers and students of AISSMS came up with the Oratory Competition Idea Manch where students from all colleges could come forth and share their perspectives and thoughts.
This was not just a competition, but it also provided students with a stage to share their thoughts about improving education in India. Idea Manch concept was initiated on international youth day 12th august 2020 for the youth by the youth.
IDEAमंच 2.0
This year we will unveil "IDEAमंच 2.0" with a wider reach and bigger goals.
This year's topic is "75 Years of Indian Independence: My Idea of Modern India"
The reason behind this topic is to bring light to the 75 glorious years of Independent India is to bring out the sense of responsibility as a citizen in the students and make them think on their feet on how they visualize the future of our nation should be and what needs to be done to achieve this said vision. The competition will be open to all students across the nation and the entries will be taken in video format.
Synopsis of last year's IDEAमंच
Participants spoke on the topic "Transforming the Education in India". The top 3 videos were shortlisted and put for online voting and the maximum vote receiver was declared the winner. We were able to reach out to an astonishing 1 lakh+ students. Students from all over Maharashtra participated in this event. The responses were unexpected and we were so overwhelmed by them. Students presented some great points and amazing content
PRIZES !
1st Winner
2nd Winner
3rd Winner
WINNER DECLARATION ON
30 MARCH 2022
RULES & REGULATION OF THE COMPETITION
Students must submit their original work. They must adhere to the theme of the competition.
All submitted photo(s)/video(s) must contain the original EXIF metadata information. However, there must be no border(s), logo(s), copyright marks, identifying marks, or any other visible references and/or marks on the image
Basic editing, including colour enhancement, the use of filters, and cropping of the video(s) is acceptable, provided any such editing does not affect the authenticity and/or genuineness of the video(s).
Advanced editing is used to create illusions, deceptions and/or manipulations, and the adding and removing of significant elements within the frame is prohibited
Videos that portray or otherwise include inappropriate and/or offensive content, including provocative nudity, violence, human rights and/or environmental violation, and/or any other contents deemed to be contrary to the law, religious, cultural & moral traditions and practices of India, are strictly prohibited and will be immediately discarded.
Submitted videos must be original, created and/or taken by the contestant. It must not contain any materials owned or controlled by a third party
The Google drive link shared should be an open link and access
DISCLAIMER
Upon making the submission, participant grant AISSMS, worldwide, non-exclusive, royalty-free, sub-licensable right and license to use, publish, reproduce, display, perform, adapt, create derivative works, distribute, have distributed, print, in whole or in part, in any form, in all media forms now or hereafter known, to promote the contest, image, the photographer or for editorial or educative use.
Also, participants upon submission agree that the views and opinions expressed in the video are those of the participants and do not necessarily reflect the official policy or position of any college or organisation they are associated with.