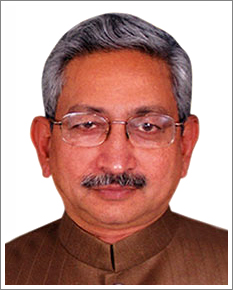 Shri Shrimant Chhatrapati Shahu Maharaj,
President – AISSM Society
All India Shri Shivaji Memorial Society, and its founders realised very early, the need to bring about reforms through education. Since its inception in 1917, it has been the Society's endeavour to continuously improve its initiatives. Today the Society has made a huge foray into the noble field of education, meeting the all-round requirements on various fronts including emerging areas. All India Shri Shivaji Memorial Society has a distinctive mission & a history that has made it a leader in the field of education. Education today, not only focuses on imparting knowledge & skills but also on the overall development of the students. With state of the art infrastructure and dynamic faculty, ASSMS is marching ahead on all avenues of education right from primary schooling to specialised technical institutes to name a few two engineering institutes, a pharmacy college and a hotel management college. As a President of AISSM Society, I welcome you to access our multifarious endeavours and be a part of our culture.
With the "vision of service to society through quality education" AISSM society has successfully established multiple educational institutes in Pune city.
Today AISSMS offers education ranging from pre-primary level to post-graduation.
The legacy of over 100 years has enriched the educational scenario in the city by offering a rich heritage, quality education and a dynamic incubation cell for the young minds to experiment with. There is a strong industry interface which ensures the global presence of the alumni
At AISSMS, we continue the colossal task of social reform through education as initiated by Shri Chhatrapati Shahu Maharaj in the year 1932
AISSMS today is a 1200 plus Teaching staff and a 14000-Students plus Community. Our focus is practical based learning in order to create competent industry leaders.
It prepares them to face the ever-demanding and ever-changing challenges of the industries. Today our work in the education field like Engineering, Management, Pharmacy, Hotel management has reached people all over the country and the world. Our students' community extends far beyond the AISSMS campus, with sizeable alumni around the globe.
Shri Malojiraje Chhatrapati
Honorary Secretary - AISSM Society