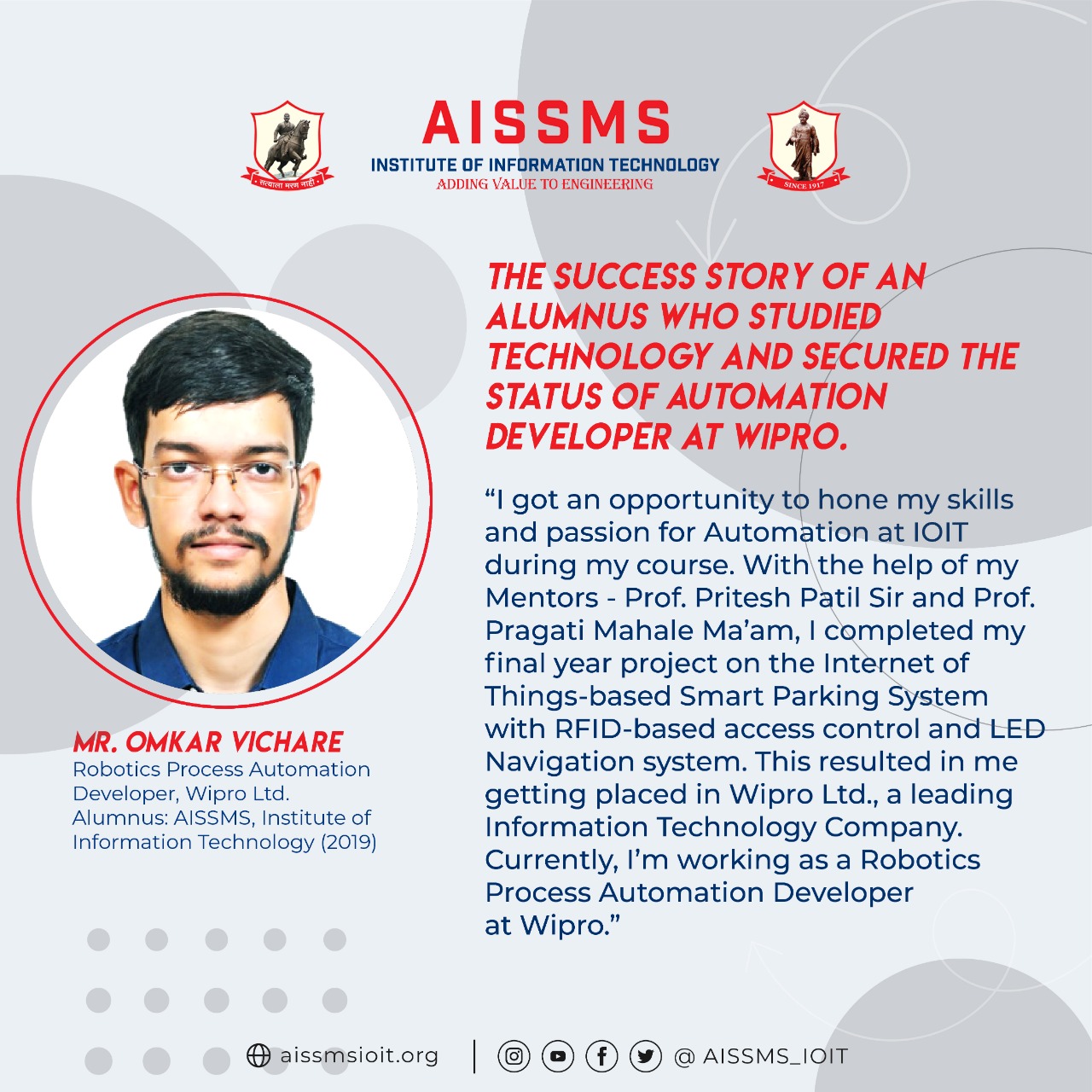 Mr. Omkar Vichare
Alumnus - AISSMS IOIT
Website Story:
Mr. Omkar Vichare is a reputed alumnus of AISSMS Institute of Information Technology. He constantly involved himself in academic teachings of Information Technology and learned a fair deal of technical skill sets during his graduation years. He shared a passion for computers and automation since his very childhood days. He innately believes that though technical learning is an endless process, it is a strong source of intellectual delight too. The insightful discussions with experienced faculties over various subjects of the computing world truly offer students the perspective to think clearly. Also, various academic processes at AISSMS IOT help students to envision all the possibilities before executing the right technical decision. Mr. Omkar rigorously studied the dynamics of computing and completed his B.E. in Information in the year 2019.
"Involvement in student organizations strengthens the collaborative faculties of computing students."
At the very first time, when Mr. Omkar Vichare walked through the Multipurpose Hall entrance door to attend his induction program, he never thought that he'll exit AISSMS Institute as the Best Outgoing Student of the Year – 2019. According to him, this was only possible due to the institute's inclination to provide abundant opportunities for the students willing to grow as unique individuals. With the guidance of his teachers, he enhanced his skills to participate in as well as organize various inter-college events. He was entitled as the President of I.T. Students Association (2018-19) to lead significant inter-college events like Alacrity and Departmental fest.
Mr. Omkar Vichare expresses that he got the biggest opportunity to get in touch with the nerves of almost every IOIT'ian while handling the editorial functions of Annual College Magazine 2018. He was rightfully appointed as the Student Editorial in "Chief of Aayam"' which represents the 10th Edition of Annual College Magazine. His final year project on the internet of Things-based Smart Parking System played an important role in his placement. He considers his project-related interactions with Prof. Pritesh Patil and Prof. Pragati Mahale, extremely important in his professional life. The faculties offered him exceptional mentorship to help him understand and advance his expertise in dealing with RFID-based access control and LED Navigation Systems.
The completion of his final year project got him a professional automation engineering position in Wipro Ltd., a leading Information Technology Company. He is currently working in Wipro Ltd. as a Robotics Process Automation Developer. His profile mainly focuses on designing and engineering programs that produce automation in new or existing software. His creative approach to solving problems related to technology is serving optimum methods of automation to the high-tech firm. In recent years, automation bots are demonstrating major significance in performing complex computing tasks with ease. We wholeheartedly wish Mr. Omkar Vichare, a rewarding and successful journey in the field of computer automation.
Miss Pooja Beek
Website Story:
Miss Pooja Beek is a brightly skilled alumnus of the AISSMS Institute of Information Technology. She recently completed her graduation in Electrical Engineering. Her term of education in the college is marked with an aptitude for academic excellence. She perceived every area of Electrical Science as an important segment of the groundwork for her career. She considers the Laboratories, Library, and digital learning facilities of AISSMS IOIT student-friendly and inventive. The guidance she received from the teachers helped her polish her technical skills and enhance her extracurricular growth.
"Industrially, just every field of Engineering requires a higher level of commercial understanding."
After walking past her academic life, Miss Pooja Beek got placed as a Purchase Analyst at Eaton Technologies Pvt. Ltd. She is strengthening her market analysis capabilities to guide the purchase decisions of the power management firm. Her current awareness of the company's technological requirements is both reliable and rewarding. Her professional undertakings are hugely backed by price and product research. The knowledge she gained about electrical engineering during her graduation period is effectively supporting her career as a Purchase Analyst at Eaton Technologies. While dealing with essential suppliers, she reflects a special grasp over new parts and equipment required by the organization. She is also adept at handling purchase documentations with a strong sense of discipline and determination. We consider her experience as an excellent example for upcoming electrical engineers. We feel confident about her present position in life and wish for profitable growth in her career.